---
Chongqing yingtianhui chlor-alkali chemical co., ltd. has gained a solid reputation in its operation and won great honor-congratulations to yingtianhui for winning the title of "2019 Chongqing top 100 manufacturing enterprises"
---
In recent years, the economy of private enterprises has continued to grow, and has gradually grown into a new force of economic development and a builder of social harmony, promoting the city to move forward in the rapidly changing social environment and compete for the development avenue! Chongqing Yingtianhui Chlor-Alkali Chemical Co., Ltd. has been adhering to the scientific development concept, adhering to the people-oriented, "San'an" management concept, with a high degree of social responsibility and corporate responsibility, after nearly ten years of practice and tests, it has won the high recognition of government departments and cooperative enterprises at all levels, and won the award of Chongqing Top 100 Manufacturing Enterprises in 2019 from Chongqing Enterprise Federation!
General Secretary Xi JinpingIn the report of the 19th National Congress of the Communist Party of China, standing at the height of history and the times, it is clearly proposed to encourage and support the development of the private economy to make many new major expositions, pointing out the direction for the sustained and healthy development of the private economy across the country, marking that the private economy will usher in new Historical opportunities and new stages of development. At present, the company is at an important stage of special activities such as passing the secondary review of safety standardization, passing the review of AA-level harmonious labor relations enterprises, reducing costs and increasing efficiency in full swing, closely preparing for overhaul, and fully releasing production capacity to sprint for the annual target. The honor of Chongqing's top 100 manufacturing enterprises in 2019 undoubtedly brings great excitement and encouragement to all cadres at the critical moment, hoping to make persistent efforts and make great efforts in the following work, in order to promote the scale, level, quality and efficiency of Yingtianhui and even the whole city's economy, we will make new achievements! At the same time, it is recommended that all Yingtianhui colleagues carry forward the spirit of "patriotism, dedication, integrity, law-abiding, and contribution", shape the image of a mixed-ownership enterprise with standardized management, orderly operation, and significant benefits, and form a sustainable development trend driven by innovation, transformation and upgrading. The city creates a development situation where thousands of businesses gather and elements gather!
Chongqing Yingtianhui Chlor-Alkali Chemical Co., Ltd.
December 16, 2019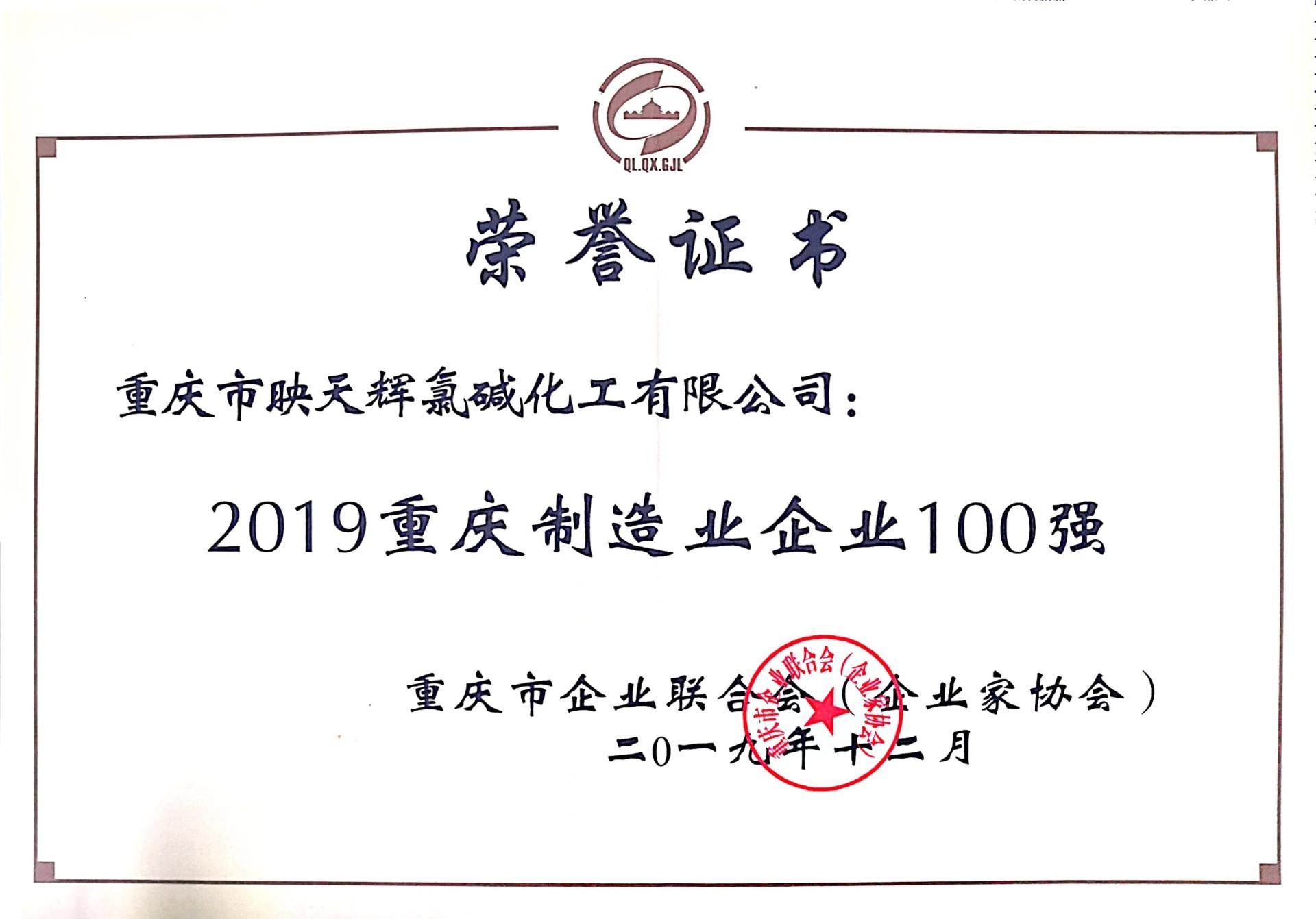 Yingtianhui, chlor-alkali, top 100